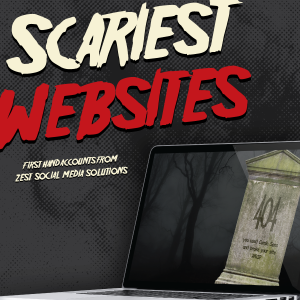 In today's digital world, it is nearly impossible to run a successful business without the support of an online presence. To some business owners, this means contracting a digital marketing company—ahem—to reach new audiences and improve brand awareness. However, such efforts can be in vain when businesses do not have an adequate website to support their marketing initiatives. Below, the website design and development gurus at Zest explain some of the scariest website mistakes that a company can make.
Spooky Development: Having a Website that is Not Responsive
"The landscape surrounding internet use and search has changed drastically since many businesses initially built their websites. Over the past two years, mobile devices have surpassed desktop computers in overall internet usage and specifically in search. Despite this, many companies do not have a website that is optimized to be used on a mobile device." –Josh Crist, Director of Technology
But what does that even mean? Well, consider a time that you have been searching for information online on your cellphone. After a significant amount of time sifting through various search results, you likely clicked through to a website hoping to find the information that you are looking for. However, upon arriving to the site, you found that instead of being able to easily read the information on the page, you had to constantly zoom and scroll to make it fit your device's screen. Further, you may have noticed that any buttons or links on the site that could help you to find the information you were looking for may have been too small to click. The website that you stumbled upon in this instance was not responsive on mobile devices, making it difficult, slow and likely frustrating to use.
If you have experienced this, then you may have a basic understanding of the benefit that responsive websites provide for internet users. Developing your website to automatically adjust per the size of a device can greatly increase website traffic, returning users, leads and even conversions.
Frightening Design: Using Images on Your Website That are Not Sized for Your Website
Research suggests that websites, and specifically posts, with images attract a larger amount of views. Often, images are used to break up content areas and supplement text, but the use of images can improve the aesthetic appeal and user experience as well. Although there are direct benefits derived from using images on a website, they can also become problematic if sized improperly.
"When designing a website, size is key. If a file size is too large, a single image can cause your website to load at an abysmal rate, especially on mobile devices. Too small, and the image becomes pixelated, which can cause issues with visibility and can look bad to your users. Having an idea of the proper size guidelines for website images can be extremely beneficial to ensuring that your website looks great and performs well." –Alexa Carney, Creative Director
When uploading images to your website, be mindful of the file sizes and dimensions. If you are unsure about the specifications that the images should meet, there are various resources online that can help to guide you in the right direction. If you would like more information or guidance about website design, or specifically about website images, consider scheduling a consultation with the Zest design team.
Blood-Curdling Content: Having a Website that is All About You
It is important to consider why you have a website for your company, firm or organization. Typically, you build a website as a way of convincing leads to convert in one way, or another. However, many companies lose sight of this purpose, and fill their site with content that is focused inward—not on the benefit that the company can provide to the user.
"Yes, it is advantageous to promote the various accolades and peer awards that your employees have received. Doing so can provide potential clients or customers with a degree of confidence that your company may be worth the conversion. However, if your website is dripping with content that only describes your company, then it is likely not conveying the benefit that your goods or services can provide for your customer and as such, will discourage leads from converting in the long-run."–Marissa Walker, Digital Strategist
When composing content for your site, think about this: the first thing that a customer or potential client will look for when they enter your site is how the services or products that you offer can fulfill their wants or needs. If your content does not provide an answer to this, you may want to consider shifting focus.
Spine-Chilling Web Management: Outdated Information
Outdated content, event posts and images can have a significant impact on the performance of a website and a business. Routine updates not only ensure that a site looks good to users, but help to improve a site's search ranking.
"There are likely thousands of websites that serve to promote the same goods or services that your company does. As such, being complacent about the information that is presented on your website is a grave mistake. Outdated website information is not only a turn-off to potential clients and customers, but can affect how easily new users find your site in search." –Mike Wyant, Project Director 
Updating your website can seem like a time consuming and daunting task. But the importance of doing so cannot be understated. Setting aside even an hour a week to make updates, write new content or post related news can help to improve user experience and website performance. Don't even have an hour to spare? Hire an expert!
Hair-Raising Language: Using Technical Terminology
In working with companies and firms in many different professional service fields, we have come to understand that each industry has a way of writing, speaking and communicating that is unique to that field. While this may translate well within the confines of a specific occupation and among professional peers, it does not often translate for internet users.
"While it is important to include relevant keywords within your content that will improve your search rankings and drive the right traffic to your pages, you should try to steer away from developing content that is solely based on technical language." –Chloe Cacciaguida, Digital Strategist
Considering how language will affect your website visitors is a crucial step in website content creation. Use words that are easily understandable to the general population, and avoid overly complicated technical terms. The bottom line is that your message should be clear, and the content on your site should be easy to consume. Otherwise, you may find that potential clients are leaving your site as quickly as they clicked into it.
Don't let these scary website mistakes derail your digital strategy. Contact the Zest website development and design gurus to learn more.