Written by Colin Dougherty, Towson University 2016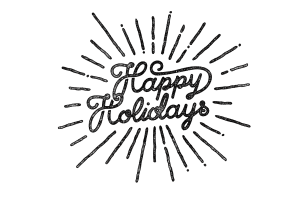 The winter holiday season is the most important time of year for businesses to capitalize on sales and opportunistic campaigns. Customers are comparing prices and selecting last minute gifts for their loved ones, and may even be looking to purchase something for themselves. As a result of increased demand, sales are plentiful – as are marketing opportunities. Businesses my feel overwhelmed when attempting to determine an effective seasonal marketing strategy. By utilizing the following techniques, however, businesses will be able to use the holiday season to their advantage by increasing business and exposure.
Peak Posting Dates
First and foremost, your business should build out a calendar that highlights and plans for significant dates during the holiday season. Make a note of dates like Veterans Day, Thanksgiving and Black Friday when creating content for your website and social media accounts.
Use the "Before, During, After" approach in drafting content for each important date. This approach involves generating content that surrounds each holiday, preparing customers and followers for the announcement on the date and reminding them of its significance. Finally the business should follow up with customers after the holiday has passed.
Ideally, your business should carry out content campaigns as follows: 'before' content should be posted before the day of the holiday, preparing the consumer for what announcement is to come later. The company should then post on the morning of the holiday, as well as once more the day after, thanking people who interacted with them or participated in specials that may have been offered. Businesses who employ this strategy portray themselves as up to date and relatable.
Below is a list of upcoming holidays. Use these dates as opportunities to increase your reach and attract new audiences by implementing the Before-During-After strategy:
November 24th – Thanksgiving Day
November 25th – Black Friday
November 28th – Cyber Monday
December 24rd – Christmas Eve
December 25th – Christmas Day
Making Posts Relevant to Gift Trends
Even if you have a posting schedule in place for the upcoming holidays, determining what exactly your business should be saying or doing to commemorate these dates can be challenging. Since many of your customers will already be in the holiday mindset, one of the best ways to create high-quality, effective campaigns is to use a recent trend, experience, or product.
Cyber Monday, for example, is an excellent opportunity to highlight your business's user-friendly eCommerce using secret marketing. Consider creating a social media post that contains a discount code exclusive to online shoppers.  Post it in your Instagram or Snapchat story to ensure that it disappears after it is viewed. Secret discounts motivate customers to search for deals. The challenge of finding the discount and applying it to a purchase is part of the fun, and makes shopping into a game. Customers are more likely to share this experience with their friends than the traditional experience of sale shopping.
Gestures such as this not only convey the human side of your business – they also highlight the contribution you make to the surrounding community. Community outreach and support are strong themes to employ as part of your holiday marketing strategy.
Creating Content with Holiday Characters in Mind
Another highlight of the holiday season is the return of the most recognizable holiday tropes and stories. Whether it's Mr. Snowman, a peace dove, or a reindeer, holiday characters bring with them a powerful sense of nostalgia. It is advantageous for businesses to leverage this nostalgia when creating holiday content.
Integrating holiday storylines by creating holiday product graphics, borrowing famous catchphrases, or writing content suggesting interaction between familiar holiday characters and your business are excellent ways to organically market your holiday spirit.
(Present) Wrap Up
Using the holiday season to market your business may seem a daunting task, but employing a combination of planning and the development of a few conceptual themes, you can build a strategy for success. Using the guidelines described above, you will give your business a boost and and increase sales.
Furthermore, successfully marketing your business during the holidays can set you up to ice the competition by helping you engage with your community. If you take the time to develop a well-thought-out holiday calendar, your business may find itself on the marketing nice list.